Google Ads and the PPC model
Google Ads is an online advertising tool that helps businesses connect with their customers. You create your online ad, tell Google Ads who you want to reach, and Google Ads brings your ads to them. That's basically it.
Search Network
Google divides its advertising model into divisions. First is the Google Search Network. The Google search network typically returns your ads to a user using Google Search when one or more of the words they use, relatively or specifically, matches the keyword in which you have assigned to that ad group. Your text ad will appear based on a number of factors (we'll get into that next) including your bid price per keyword, which charges you if your ad is clicked, your landing page quality, and something called your quality score.
Display Network
The Google Display Network lets you appeal to audiences with engaging and responsive ad formats. These ads can run on some of Google's affiliated sites in graphic formats, like a custom video on YouTube. While the Search Network can help you reach audiences already looking for services in your field, the display network can catch audiences earlier in the buying stage before they decide to start searching. The Google Display network also has the ability to reach a wider audience, helping establish brand awareness.
Google Ads Search Network
SEM - Search engine marketing
Your ad placement and it's likelihood to get clicked depend on three factors:
Your keyword "bid". The highest bid doesn't guarantee a good placement and has nothing to do with being clicked by a user. The amount actually paid per click is one cent more than the next lower bid.
Your format Impact: the format must include a clear headline (and URL), descriptive and intriguing text, and a call to action at the bare minimum.
Quality Score: Quality Score is the 1-10 rating that is reported for each keyword in your account (including relevance) calculated by estimating the quality of your ads, their associated landing pages, and click-through rate (ratio of how many people see your ad to how many clicks it).
Having a high-quality score and stellar format impact means you can win ad placements with lower bids, saving you money by lowering your CPC or Cost Per Click. This is the basic model that makes up PPC or Pay per click.
Google also offers extensions that we at Mainframe Web Solutions like to use. They can further boost your quality score, page visibility, and format impact as well as encourage clicks. Extensions can offer extra details like your location, email address, or even product displays with a shopping extension.
Keyword assignment
Let's say you're selling baseball bats and using it as your keyword for an example.
Anyone searching baseball bats can potentially trigger your ad. In other cases Google Ads will accept synonyms so your ad could appear for baseball pants or winged bats. Even misspellings like bseball bats could trigger it. This is a broad match and beneficial only to those who are trying to drive any type of traffic at all to their site.
+Baseball +bats: can narrow your search down to exclude synonyms. Misspellings will still trigger your add. It's more targeted, but still broad.
"Baseball bats": is a phrase match and close variations will return your ad. Someone searching aluminum baseball bats will return your ad. But what if you only sell wooden bats?
[baseball bats]: is for an exact match and is even more narrow than quotations but aluminum baseball bats will still trigger it.
-aluminum: is a negative match and will exclude match with the word aluminum in it.
Putting it together - PPC
Google Ads is hands down the most powerful and effective advertising tool on the internet, even on a lower budget. Managing it correctly can drum up new customers and pump life into an aging business, or jump start a new one. At Mainframe Web Solutions we have poured over hundreds of pages of documentation and passed a dozen different certifications to call ourselves experts.
The tools are there, knowing  how to use them is the trick. We know how to use keyword assignments to target specific groups of people, how to write text ads with extensions that people will click, and score high on quality tests enabling you to win bids at lower cost. Knowing these things enables us to bring your site visitors at the lowest Cost Per Click (CPC). We know the correct URLs to assign your landing pages, and how to assign multiple ones to cycle through so you don't see the same one every time.
To learn more contact us, we will be happy to answer any questions you may have.
Google Ads Display Network
Pay per click image ads
Creating ads on the Google Display Network is somewhat automated. To create responsive ads enter your ad text, CTA's, and your logo, and Google will optimize the ads to improve performance! For more control we can upload your own ads in image format or in straight HTML.
When we advertise with the display network your ads can appear on over two million sites that partner with Google's network. For instance we can display image ads in Gmail or video clips on YouTube.
Reach is the number of possible targets that fit within your target settings. Each time you add a new layer of targeting you narrow down your target audience. With Responsive ads once we get a feel for your audience you can choose to let google optimize your targeting further for you.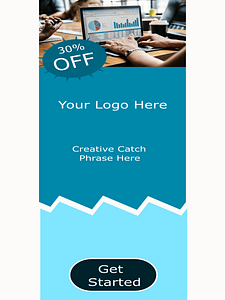 Display Network ads are the ads that appear when people are browsing through websites that match the description of your target settings, whereas Search Network ads appear when users are browsing for something particular and strike a match with your keywords, then appear with the listed results. Both have its advantages and disadvantages. To raise brand awareness however there is no comparison, The Display Network outweighs the search network.
The display network can also target users who have visited your site before even if they didn't buy or interact with anything. This keeps your brand fresh in their head so when it comes time to buy or join you have been appearing on several web pages they have visited.